60 actors, writers and directors argue that performing in occupied territories would legitimise illegal settlements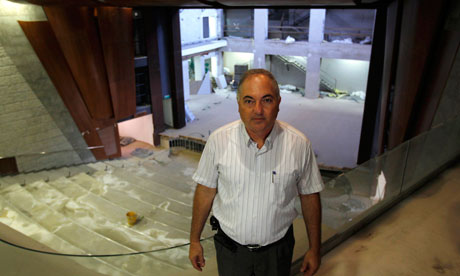 Ariel Turgeman, manager of the theatre being built in Ariel, a West Bank settlement, which has prompted a boycott by Israeli actors.
Photograph: Ronen Zvulun/Reuters
More than 60 have joined the protest over plans by Israel's national theatre, the Habima, and other leading companies to stage performances in Ariel, a settlement 12 miles inside the West Bank. The letter, to Israel's culture minister, Limor Livnat, says the new centre for performing arts in Ariel, which is due to open in November after 20 years in construction, would "strengthen the settlement enterprise".
"We want to express our dismay with the intention of the theatres' managements to perform in the new auditorium in Ariel and hereby declare that we will refuse to perform in the city, as in any other settlement." Israel's theatre companies should "pursue their prolific activity inside the sovereign territory of the state of Israel within the boundaries of the Green Line".
The actors' letter follows the refusal of some international artists to perform in Israel because of its occupation of the Palestinian territories. Earlier this summer, Elvis Costello cancelled concerts in Israel, citing the "intimidation, humiliation or much worse on Palestinian civilians in the name of national security". The Pixies, Gil Scott Heron, Santana and Klaxons have also withdrawn from performances.
Ariel, home to almost 20,000 people, was founded in 1978 deep in the West Bank. Israel wants it to remain on its side of any border resulting from peace negotiations with the Palestinians. All settlements on occupied territory are illegal under international law.
Read the whole story at
guardian.co.uk
, by Harriet Sherwood